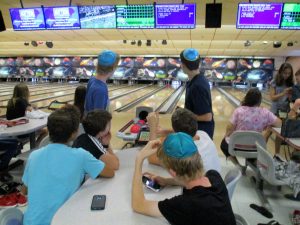 8th Grade Bowling – September 11, 2016
All 7th and 8th graders are invited to go bowling with BCHSJS! A great opportunity to meet
new people.
Escape Rooms – October 22, 2016
Join your friends for this interactive adventure experience. You must
work together as a team to solve clues, puzzles and challenges to
escape the room.
Can you make it out in time?
BCHSJS Goes to Broadway – November 20, 2016
A NYC adventure. Don't miss out as BCHSJS goes to see Fiddler on the Roof.
To life!!
Funplex – December 11, 2016
Experience winter fun indoors as we ride go-carts, play laser tag,
crash bumper cars, and play arcade games
Ice Skating – January 22, 2017
Chill out and join us for an afternoon of fun on the ice. You won't
want to miss it!
Snow Tubing – March 4, 2017
Hit the slopes  with your BCHSJS friends and
enjoy the ride!
Click here for more info and to register for snow tubing
Six Flags/Great Adventure – April 13, 2017
Join us for our Annual Six Flags trip! Enjoy thrilling rides and make memories
to last a lifetime.
Yad Leah Volunteer Center March 19, 2017
Do good and have fun! Participate in a 90 minute pack for Israel experience!
The flyer (clothing drive front) is also attached below. There is no online sign-up for this one.