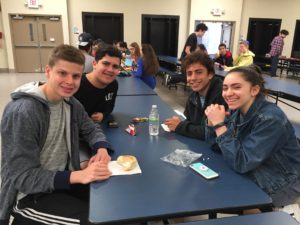 "The kids and the atmosphere are just wonderful.  All the teachers are fabulous.  My daughter was moaning this morning to get up and be there at 9:30 and went in grumpy, but she came out smiling and full of energy by 12:45!  She was so impressed by the enthusiasm of the kids who actually choose to be there on a Sunday, unlike many of the other programs she attended where the kids just complained and hated being there…she couldn't believe it!   BCHSJS really is the best kept secret in Bergen County!"   – BCHSJS Parent
Young people in their teens are questioning, soul searching and forming opinions about who they are and what it means to be Jewish. The majority of them have recently completed congregational Hebrew school and statistics show that their participation in any kind of Jewish learning stops at that point. And yet, this is the most important time to guide our youth into becoming adults with Jewish values, morals and identities. Encouraging your son or daughter to attend BCHSJS sends a clear message about the importance of not only being Jewish, but being part of a broader Jewish community.
Many parents are concerned that their children won't want to attend BCHSJS because it will be boring and more of the same lecture style instruction they had in their younger grades. That couldn't be further from reality. BCHSJS combines a personalized, discussion-based program with a breadth of social and community service activities.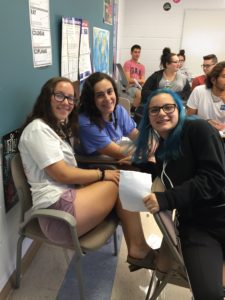 BCHSJS is a practical investment. Juniors and seniors can earn college credit for taking specific courses, which can help defray college tuition costs. Because of our numerous community service opportunities, students can earn credits to meet their high school requirements and/or to enrich their college applications.
BCHSJS is convenient. We know how busy you and your teens are, juggling work, sports practice and other activities. We've scheduled BCHSJS at a time when it's easy to attend – Sundays from 11:30am to 1:30pm – which is late enough for teens to sleep in, and early enough that it doesn't overlap with weekday extracurricular activities and leaves Sunday afternoons available.