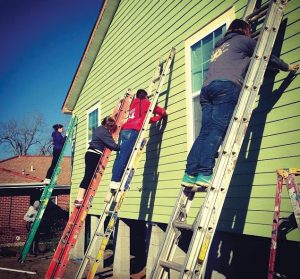 The Hebrew phrase tikkun olam means world repair; tikkun means "repairing" and olam translates into "world, cosmos, eternity." In the broadest sense, tikkun olam today has become synonymous with the notion of social action and the pursuit of social justice. But on a more personal level, tikkun olam also refers to simple acts of kindness that are performed in one's daily life to perfect or repair the world and help the less fortunate. That's where our students come in.
Tikkun Olam is a core part of the BCHSJS experience and our commitment to the concept is woven through all that we do. We bring our values of repairing the world to life for our students – and we make it personal. One very powerful way that BCHSJS students can practice tikkun olam is to become part of our Jewish Volunteer Corp. This school year-long service-learning class provides the opportunity for students to learn and volunteer ten times during the school year with a group of senior citizens at the Daughters of Miriam/The Gallen Institute senior care facility in Clifton, NJ. Founded in 1921, Daughters of Miriam has served as a vibrant community for seniors at all stages of life. Its mission is to meet the social, emotional and healthcare needs of the elderly Jewish community in Bergen County.
Through our program, students engage with the Jewish residents and build one on one relationships with them. They create bonds while learning about the individuals' life stories and documenting them in written and visual formats. Each week they feel and see how they are making a difference in the life of an older Jewish person and forging a link between the past generation and the present. In doing so, they strengthen their own Jewish identity and experience first-hand the power of tikkun olam.
Tikkun olam takes many forms at BCHSJS and we offer a myriad of "giving" opportunities throughout the year. We have drives or collections for needed materials, such as school supplies, clothing for Israel, holiday toys and a food collection for Passover. Our students and teachers volunteer as part of Bergen County's Mitzvah Day and the Jewish Federation's Super Sunday, some participate in a Habitat for Humanity trip to New Orleans. These activities instill in our students a commitment to repairing the world that stays with them long past their time at BCHSJS.