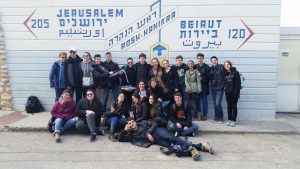 If you send 13 BCHSJS students and one BCHSJS teacher to Israel for seven days and ask them what they thought of the trip, you get 14 different answers. And yet, if you listen more closely, you'll realize that the answers are actually all the same. The trip was amazing.
So the real question is, why was the trip so amazing?
Some of the students in our Jewish Federation of Northern New Jersey-funded Young Leadership Course had been to Israel in the past, and for others, it was their first trip. Either way, everyone was struck by the history, the culture and the breathtaking landscape wherever they went. Whether visiting Independence Hall in Tel Aviv, seeing a breathtaking waterfall in the Golan Heights, moving through the water caves or grottos of Rosh Hanikra along the Lebanese border or wandering through the Old City of Acre, the group experienced first hand places most of them had only heard about. Even for the students who had been there before, those sights were in Technicolor, they were steeped in history and they were larger than life.
The historical, religious and cultural aspects of the trip were reason enough to be there, but there was something even more powerful that made the trip "amazing." That's because when the BCHSJS group landed at Ben Gurion Airport, they weren't arriving as just visitors, they were being reunited with fellow students they had hosted in Bergen County earlier in the year. At first, according to one student, they felt a little anxious, but the moment they began speaking with each other, it was as if no time had passed.
For months, the American and Israeli students had been "talking" through social media and Skype sessions as part of BCHSJS' Young Leadership Course. The Israeli students had spent a week experiencing what it's like to be Jewish in America; now the BCHSJS students were stepping into the Israeli students' shoes. And while they were different in many ways, they were also very much the same. Both groups of teens lived on social media. They complained about their homework. They hung out with their friends. Both were preparing to be leaders. But there was one big difference: in Israel, the vast majority of people were Jewish! The BCHSJS students looked around their host families and friends and could imagine for just a little while what it would feel like to be surrounded by Jewish people every day of their lives, everywhere they went. That, to one of our students, is what discovering your Jewish identity felt like.
For all, it was a life-changing trip. For many, the most memorable part was the evening of December 31, when they relaxed and celebrated with their host students and families. As midnight approached and 2016 came to an end, both groups counted down from 10 and joyously yelled "Happy New Year" in the Holy Land.